Boats, Yachts, and marine craft are subjected to some of the harshest conditions under the sun. ColorBond Paint - Boating Season Edition
ColorBond Paint l Boat Upholstery Paint l Car Interior Paint l Refinisher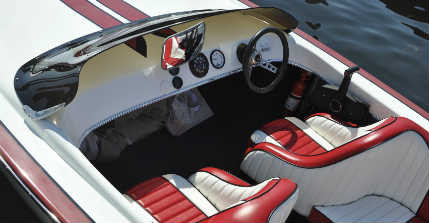 BOAT UPHOLSTERY PAINT


Boat restoration can be challenging, but ColorBond will help you refurbish any boat interior. Created for tough environments, ColorBond paint won't crack, chip or peel and is ideal for any boat interior restoration project. Weather repairing seat cushions or performing an entire interior boat restoration, ColorBond can help.

View More
Harsh Marine Enviornment:



Boats, Yachts, and marine craft are subjected to some of the harshest conditions under the sun. ColorBond is a revolutionary molecular bonding paint that penetrates deep into plastic, vinyl and leather. You can easily restore or change the color of your marine interior.
Protect Your Investment:

Protect your investment using the finest marine paint products on the market. Add years of life to your seats, cushions or boat bumper padding.

See some of our customers Testimonials.
(877) 882-6567 | http://colorbondpaint.com

Quesions? Just E-Mail or call us.



This email address is being protected from spambots. You need JavaScript enabled to view it.